Idemitsu Kosan Co., Ltd. (Head office: Chiyoda-ku, Tokyo, CEO: Shunichi Kito, hereinafter referred to as "Idemitsu") purchased blue ammonia produced by Abu Dhabi National Oil Company (Company of the United Arab Emirates, hereinafter referred to as "ADNOC") and completed its international transportation and delivery to the Yokkaichi Refinery of Showa Yokkaichi Sekiyu Co., Ltd. (Head office: Yokkaichi, Mie Prefecture, CEO: Hiroshi Maezawa).
As a pioneering action amongst domestic companies, we have completed the first demonstration test for the international transportation of blue ammonia in ISO-tank containers *1 between the UAE and Japan, aiming to accumulate knowledge and experience for developing a CO2-free ammonia supply chain.
Idemitsu will continue to contribute to the realization of a carbon-neutral society, aiming at the early construction of a supply chain of CO2-free ammonia through cooperation with various domestic and foreign companies.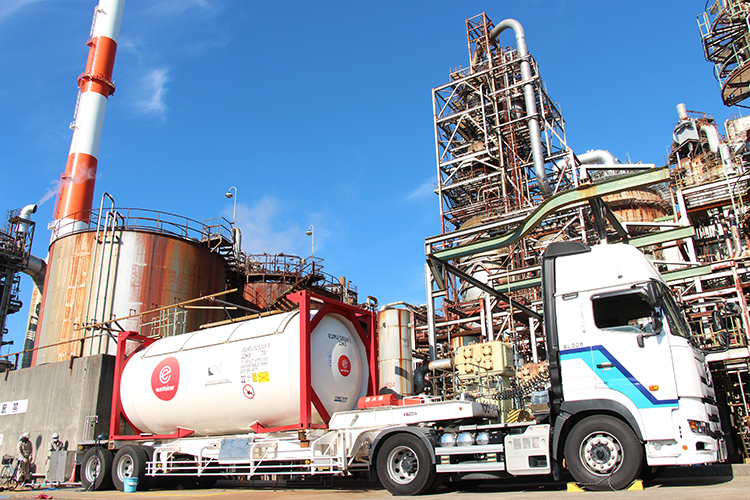 The blue ammonia transported in this trial was produced from natural gas (provided by ADNOC) by Fertiglobe (a joint venture of ADNOC and OCI) at the Fertil plant in Ruwais Industrial Park.
CO2 discharged by process is separated and recovered and stored for EOR *2. After receiving ISO containers of blue ammonia at the Yokkaichi Refinery, we will use it as a chemical application.
We have developed relations with ADNOC through 45 years of crude oil trading and other activities. Based on this relationship, these two companies jointly conducted this demonstration of international transportation with the target of constructing a new energy supply chain called CO2-free blue ammonia.
In our medium-term management plan (FY 2020-22), we have adopted the CNX Center concept, which transforms our existing manufacturing bases into a new low-carbon, resource-recycling energy hub. Based on the current experience in international transport, we will continue to improve the technology for fuel use of ammonia at our facilities and establish a fuel ammonia supply to our customers, through cooperation with a variety of leading companies both domestically and abroad.
We will promote the reduction of CO2 discharged by our facilities as well as implement measures to ensure a stable supply of low-carbon energy to our customers.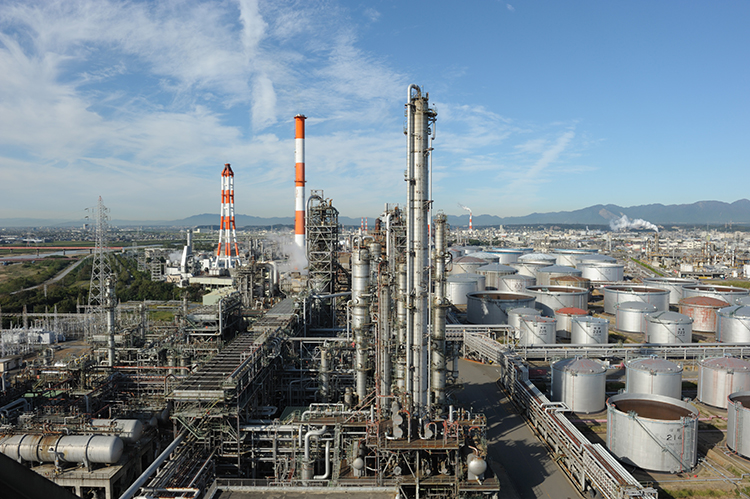 *1 Liquid transport containers designed and manufactured in conformance with the applicable ISO (International Organization for Standardization) standards. They can be safely and repeatedly used for multimodal transport both domestically and overseas.
*2 Enhanced Oil Recovery. EOR is a technology for increasing crude oil production, where CO2 is injected into an oil reservoir (reservoir rock) to change the property of oil beneath the oil field, which greatly improves the recovery factor of crude oil.