Idemitsu Kosan Co.,Ltd. (Head Office: Chiyoda-ku, Tokyo; Representative Director and CEO: Shunichi Kito; hereinafter "Idemitsu") has started the full-scale operation of "Chengdu Plant, Idemitsu Electronic Materials (China) Co., Ltd." (President: Mitsushige Nakashima, hereinafter the "Chengdu Plant"), the third OLED materials manufacturing plant in Asia, with shipment starting in January 2021. The production capacity of the Chengdu Plant is 12 tons per year, which is the largest capacity in the Idemitsu Group. Idemitsu aims to ensure a stable supply of materials to our customers in China, which is growing significantly as an OLED display-manufacturing country.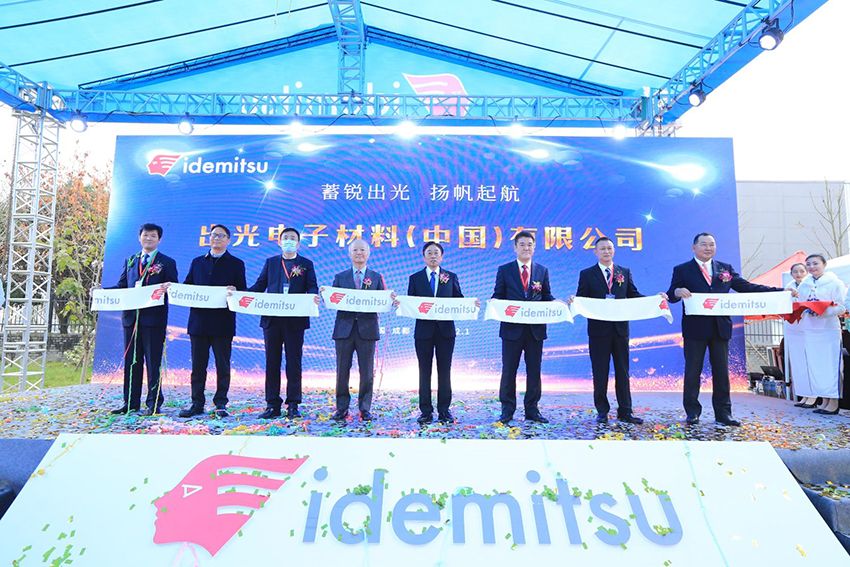 With the start of full-scale production at the Chengdu Plant, the Idemitsu Group's total OLED materials supply capacity will reach 22 tons per year. Idemitsu is responding to growing demand for OLED materials in various countries through the operation of three production bases: the Omaezaki Factory (Shizuoka Prefecture, Japan; Production capacity: 2 tons per year), Idemitsu Electronic Materials Korea Co., Ltd. (Cyeonggi-do, Korea; Production capacity: 8 tons per year), and the Chengdu Plant.
To mark the start of full-scale operation, an opening ceremony was held December 1, attended by about 100 guests, including people Chinese government officials and our business partners. At this ceremony, Idemitsu announced that it will contribute to technological innovation by supplying OLED materials that support advanced displays in China, where the display industry is developing remarkably.
Idemitsu will continue working to ensure a stable OLED material supply structure in Japan and around the world to meet its customers' needs.
[Overview of Chengdu Plant]

(1) Name

Chengdu Plant, Idemitsu Electronic Materials (China) Co., Ltd.

(2) Location

Chengdu, Sichuan Province, China

(3) Production capacity

12 tons/year

(4) Production items

OLED materials
[Reference]
1.Appearance and Production facilities booth of Chengdu Plant

2.Global offices and companies of Electronic Materials Department