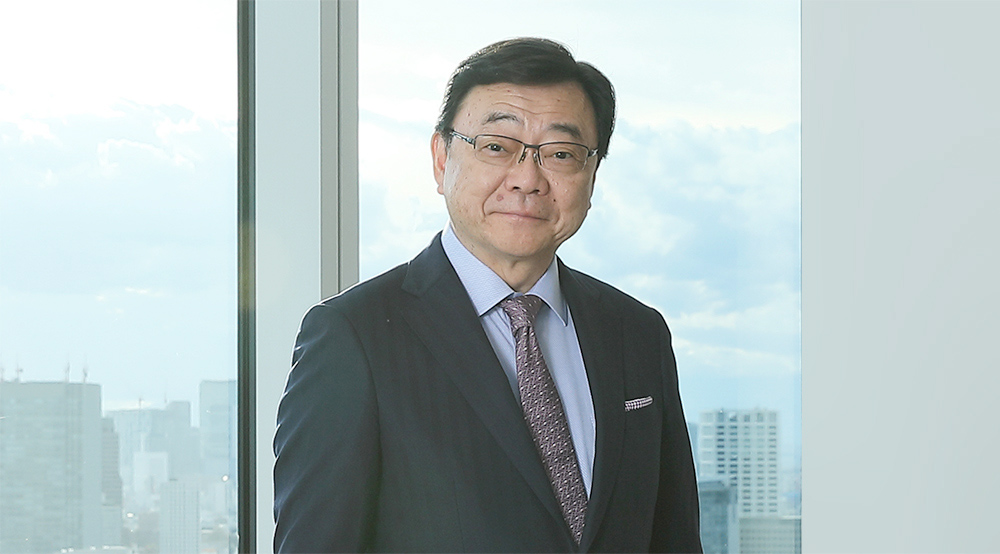 I am Shunichi Kito, Representative Director, President and Chief Executive Officer of Idemitsu.
In November 2022, we have formulated and released our Medium-term Management Plan which begins from FY2023. We have five business domains: Petroleum, Basic chemicals, Functional materials, Power and renewable energy, and Resources. Of these, a majority of these businesses are related to fossil fuel, including not only petroleum and resources, but also basic chemicals made from oil and gas, and electric power. The assets of these related businesses account for approximately 70% of the Company's total assets. This Medium-term Management Plan was formulated to present our current vision and roadmap toward the era of carbon neutrality by 2050, in other words, how and in what time frame we intend to change our fossil fuel-dependent business structure.
In formulating this Plan, we started by asking what the value of our existence is and what value we provide to society, followed by a discussion of what our strengths are and which fields will be our main battlegrounds. This time, we have defined the value provided by our company as "Social Implementation Capability." To realize a carbon neutral and circular society, it is essential to work with diverse partners. In order to bring together people with different interests and values, a greater good that serves as the North Star is necessary, and we believe this is what our purpose is, which values considering and working for the good of the countries and local communities.
Based on the above, we have formulated our Vision for 2050.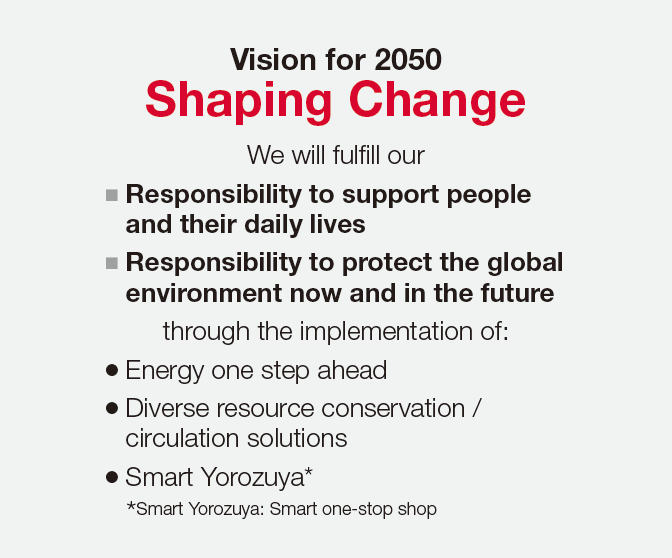 In May 2021, we formulated our corporate Vision for 2030,"Your Reliable Partnerfor a Brighter Future." To achieve carbon neutrality by 2050, discontinuous technological innovation is required. Conversely, energy supply must be continuous. While it is important to protect the future global environment, we must not abandon our responsibility to continuously supply the energy that supports people's daily lives and industrial activities today. Recently, with the military invasion of Ukraine by Russia and other events, the environment surrounding energy is changing at a pace that has never been seen in the past, and the importance of fossil fuel is being reaffirmed worldwide in the gap between the ideal and the reality. Nevertheless, we cannot afford to regress in our response to climate change issues. We believe that it is the mission of our company to present "a roadmap for both a stable supply of energy and solutions to climate change issues as realistic solutions."
Since our foundation about 110 years ago, we have been striving to contribute to society through our business, and we have continued to take on various challenges by mobilizing the "power of people". Now, in these time of uncertainty, it is necessary for us to believe in the "power of people" and mobilize it to achieve change once again. Together with all our global customers, regional communities where we operate, dealers, logistics and safety affiliates, business partners (including suppliers in Japan and overseas, such as oil-producing countries), and our employees with diverse backgrounds, we will overcome these hardships, which can be seen as a turning point for energy and continue working to create new value.