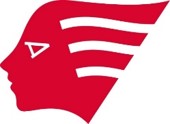 The common icon "Apollo" is used for both the corporate brand and service station brand.
It features a depiction of the mythical god of the sun in Greek and Roman myths.
Apollo is said to have high aspirations and possess boundless energy, and gaze that sees into the future.
We would like to be the Apollo who infuses the world with energy to actualize our ideal future. With our eyes fixed on a better world and seeing the same goal, each and every one of us will flexibly and unflinchingly take on the challenges.
The icon epitomizes what we aim to be as a company that adopts "people-centered management" as a policy and our forward-looking attitude for the future that lies where Apollo's eyes are directed.
Corporate Brand

The logo represents the Idemitsu Group.
The novel, smart, and sophisticated impression of the lower-case letters is reminiscent of flexible responses to social changes and issues faced by society.
Service Station Brand

The SS brand will not only provide gasoline, diesel oil, and petroleum alongside other existing automotive services, but will also look to the future of service stations to support the transportation and living of people in local communities.